Doctor G Story
Dr. Uday Gupta desires to specialize in orthopedics, but to his chagrin, he is the lone man in the gynecology department at a Bhopal medical college. He accepts the challenge but quickly finds himself in a sequence of amusing circumstances and incidents. Will the experience make him a better doctor and person? This is the central question of this medical college comedy.
Doctor G Movie Review
"Jo cheez mere paas hai hi nahi, uska ilaaj kaise karoon' is a word you would never expect to hear from a physician. Doctor G (Dr. Uday Gupta), portrayed by Ayushmann Khurrana, is an amusing, eccentric, and confused character. The fact that he is blissfully unconscious of his chauvinism and patriarchal attitudes is, of course, another notable quality of this doctor. His universe revolves around the stree-rog vibhaag of the medical college, despite the fact that he is yearning to find a way out.
The world of Anubhuti Kashyap's Doctor G introduces one well-drawn character after another, each with a different personality that adds layers to the chaotic circumstances and turmoil in Dr. Uday's life. Whether it's Dr. Jenny Jacob (Priyam Saha), Dr. KLPD aka Kumudlatha Pamulparthi Diwakaran (Shraddha Jain), the nurses, or Dr. Uday's mother, Shobha Gupta (Sheeba Chadha), the women in this story provide a great deal of strength to the narrative at every point. The plot is primarily set on the campus of a medical college in Bhopal, and the numerous personalities provide it with a particular liveliness. Together, they beautifully establish the film's mood and tone, which is generally lighthearted, humorous, and breezy.

The makers of this film, Junglee Pictures, who have previously backed films such as Raazi and Badhaai Ho, have aimed to take the audience into a previously unexplored area in Hindi cinema. Even a sensitive topic like losing the male touch, as well as a number of other pertinent topics that develop in the second half, are depicted well with well-written humor and sequences that never resort to slapstick. The appropriate amount of humor has always been employed; there has never been an overdose.
Mirror, Mirror (2022) Ending Explained: Will Paula Enhance Everyone to Their True Selves?
Even in passages where the severe subject matter is addressed, the impact is great, but the delivery and performances are subtle and respectful.
What could have been a straightforward medical comedy becomes a highly appealing tale with an underlying social message. The writers, Sumit Saxena, Saurabh Bharat, and Vishal Wagh, together with the director, Anubhuti Kashyap, have made it a point to portray the subject objectively, which has helped bring in the components that make a film compelling.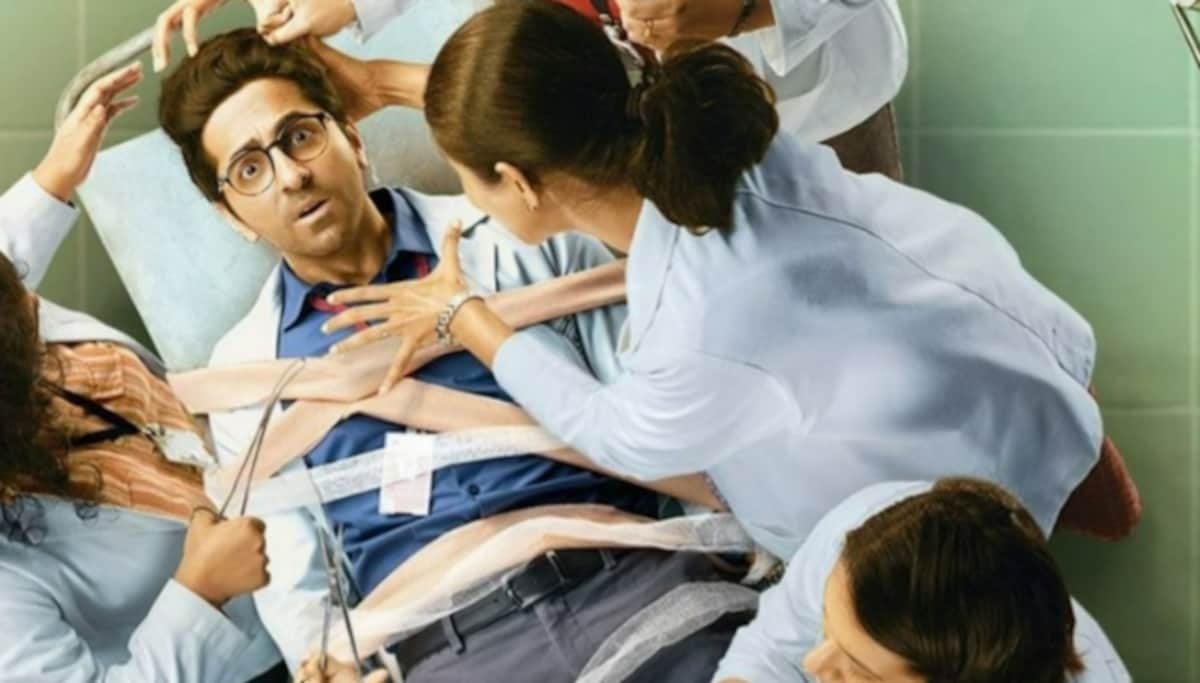 The music (by Amit Trivedi) is harmonious. Newton (Altamash Faridi), O Sweetie Sweetie (Ayushmann), and Har Jagah Tu (Raj Barman) offer a gorgeous touch to the music album, while Step Copy (Amit Trivedi) and Dil Dhak Dhak (Raj Barman, Sakshi Holkar) add much-needed zing and energize you.
Ayushmann Khurrana is a natural at his act, whether he is the stressed-out doctor in school attempting to deal with all of his female classmates, addressing the problems of his heart, or arguing with his mother at home on log kya kahenge-type topics — he is completely convincing, amusing, and on-target.
Even when his personality changes, he never loses control. His performance is natural and on par with some of his best earlier work. Rakul Preet Singh demonstrates excellent acting abilities without distracting from the film's major drama. She provides outstanding support for Ayushmann's character, guiding him through his emotional crises and encouraging him to abandon his outdated views on men and women.
With this film, Shefali Shah continues her golden run. Certainly, one would have liked to have seen more of her, but she unquestionably excels in her role and lifts the film to a higher level. Sheeba Chadha generates many laughs as Uday's progressive mother, who, despite portraying an ideal parent, is nevertheless attempting to live her life recklessly.
In her debut mainstream film, Anubhuti Kashyap demonstrates an array of nuanced performances. She demonstrates the ability to direct a story in a way that will captivate the audience and make it a topic of conversation for the appropriate reasons. Every character in Doctor G plays a vital role in bringing the plot to life. Go see it in a theatre near you, it's for your own good!
More Related News: