Dua Lipa appears to have a new man in her life—one we didn't see coming.
This week, the "Sweetest Pie" singer was seen kissing The Daily Show host Trevor Noah in New York City.
The two were photographed having an intimate dinner at Miss Lily's, an East Village Jamaican restaurant, and then stopping on the street to hug and kiss. They appeared to split up after the date night.
It's unclear how long Lipa, 27, and Noah, 38, have been friends—or more than friends—but their outing comes nearly a year after Lipa ended her relationship with Anwar Hadid, Gigi, and Bella Hadid's younger brother, in December 2021. According to sources, their schedules were too hectic at the time, and the relationship was no longer working for them.
Dua Lipa's Net Worth: Biography, Assets, and How Much Does She Earn?
Lipa and Hadid had been dating for about two years, with Lipa frequently making happy appearances on the Hadid sisters' Instagrams and vice versa. Though Lipa and Hadid frequently shared sweet posts about one another on social media throughout their relationship, they remained relatively quiet about the details of their romance in the media.
In an interview with British Vogue in January 2021, the pop star opened up about why they worked so hard to keep their relationship private.
"It's a little bit of giving and take, trying to find the right balance of being so excited and in love, and wanting to share that with the people around me, but not putting too much out there," she explained at the time. "I want to be able to be happy in this relationship without worrying about what other people think."
Noah previously dated actress Minka Kelly (2020-2021) and singer Jordyn Taylor (2015-2019).
Youtube Stars Dude Perfect Future Headquarters is Here, They Plan $100 Million Headquarters Destination
---
Rumors  Says Trevor Noah and Dua Lipa Kissing
Trevor Noah and singer Dua Lipa sparked romance rumors after being seen out on a date Wednesday night.
Noah, 38, and Lipa, 27, dined at Miss Lily's, a Jamaican restaurant in New York City's East Village neighborhood.
They were photographed kissing outside the restaurant as they said their goodbyes.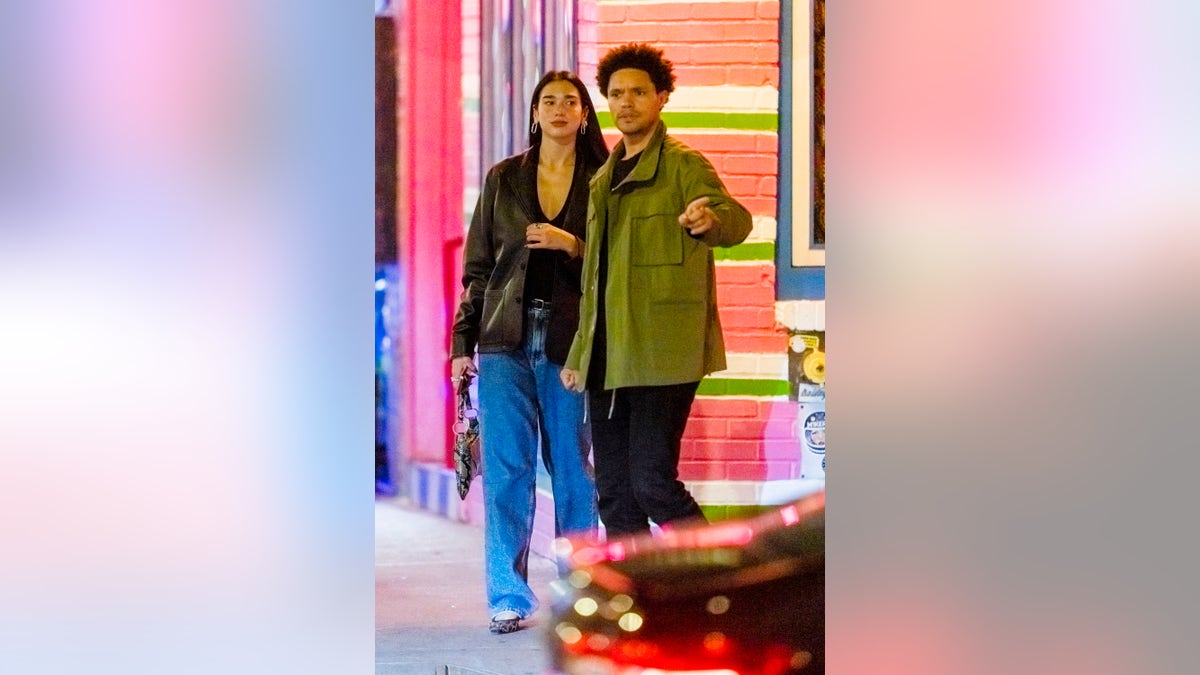 Lipa was dressed in a black leather jacket and wide-leg jeans. She completed her look with tiny leopard print heels and a snakeskin purse. Noah went all-black with an olive jacket thrown over the top.
A witness stated that the couple appeared "into each other" throughout the meal.
"They were sitting quietly away from everyone else at the restaurant," a witness told the Daily Mail.
"They were clearly in love and sat close together throughout the meal. They walked together, stopping for long embraces and hugs on the second kiss."
Representatives for Noah and Lipa did not immediately respond to Fox News Digital's request for comment.
Noah's date was announced shortly before his departure from "The Daily Show." For seven years, he hosted Comedy Central's satirical news show.
Stephanie Ruhle Plastic Surgery: What Happen to 11th Hour Host?